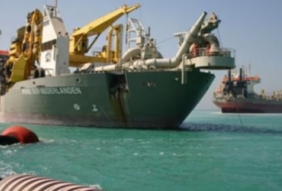 Posted on December 14, 2015
The Mormugao Port Trust (MPT) is planning to go ahead with its multi-cargo terminal project worth Rs 1,150 crore with a state-of-the-art design for which a tender will be floated to invite bidders to undertake the project.
The proposed multi-cargo terminal of the MPT is expected to handle 25 metric tonnes of bulk and project cargo such as coal, fertilisers, iron and ore in the next 6-7 years. The port presently handles 10 metric tonnes of such cargo.
Authorities at the MPT have already floated tender inviting technical and commercial bids to carry out capital dredging of the approach channel, turning circle, berths 5, 6, 7 and approaches to allow capesize vessels or large cargo ships to the berths. The proposed channel will be designed for 18,500 DWT bulk carriers. A bulk carrier is a merchant ship, especially designed to transport unpackaged bulk cargo such as grains, coal, ore and cement in its cargo holds.
Speaking to this daily, chairman of MPT I Jeyakumar said that the Ministry of Shipping aims to develop multi-purpose berths to handle cargo at the major ports in the country. "These projects will enhance the capacity of a port to handle a variety of cargo and meet the requirement of trade. It is estimated that by the next 6-7 years, the country will import huge quantities of coal of about 25 metric tonnes for its energy needs. Hence, there is a need to carry out deepening and dredging activity to facilitate the multi-cargo berths," he said.
Stating that the MPT will soon be floating tender for inviting bidders for designing, engineering, financing, procurement, construction, operation and maintenance of the multi-cargo terminal project, Jeyakumar said, "We have proposed three berths to facilitate capesize vessels and the plant will be designed to the highest environmental standards and state-of-the-art infrastructure."