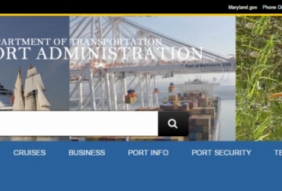 Posted on November 13, 2015
By Karen Thuermer, FBJNA
With steamships getting bigger, dredging is increasingly critical to seaports such as Maryland Port Administration's Port of Baltimore.
"Dredging has become a very critical component of furthering the MPA's mission of promoting waterborne commerce through Maryland in a way that provides economic benefits for our state," said MPA Executive Director James J. White. "Without continuous dredging of our channels, massive ships that continue to increase in size would not be able to reach the Port of Baltimore and support thousands of good-paying jobs.
The MPA has received national and local environmental restoration recognition for three of its dredged material management projects: Poplar Island in Talbot County, Hart-Miller Island in Baltimore County, and Masonville in Baltimore City.
Consequently, MPA has named Christina E. Correale to oversee its dredging program as its new director of harbor development. Correale comes to the MPA after five years as principal of the EcoLogix Group, where her duties included serving as a senior advisor to the MPA on dredged material management projects. She previously was chief of the U.S. Army Corps of Engineers Baltimore District Operations Division, where she oversaw all aspects of its navigation program, including Baltimore Harbor and its channels operations and maintenance.
In her new role, Correale will oversee the selection, environmental feasibility, engineering and design, construction, and operation of dredged material placement sites, with a specific importance placed upon beneficial and innovative reuse.