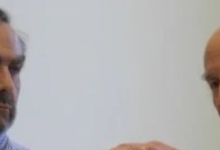 Posted on July 27, 2015
By Abigail Curtis, Midcoast
Politicians and lobstermen came together in Belfast on Tuesday at a press conference held to urge state and federal agencies to slow down and reduce the scope of a proposed Searsport harbor dredging project.
"You need to put the brakes on this thing," fisherman David Black of Belfast said to the applause of the few dozen people at the Belfast Boat House. "Let's do some more work before we go any further."
At the event, organized by the Islesboro Islands Trust, a group of Maine legislators made a formal request to the Maine Department of Environmental Protection, the Department of Marine Resources and the Maine Board of Environmental Protection to conduct a comprehensive environmental impact statement of the proposed Searsport Harbor expansion dredging.
READ FULL ARTICLE HERE