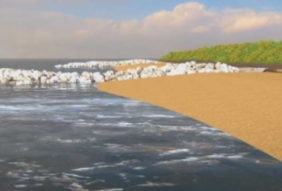 Posted on December 17, 2015
More than £5 million is to be spent on a project to stabilise cliffs along the coastline at Clacton and Holland-on-Sea.
Over £2 million of the money has come from a major Coastal Protection Scheme along a 5kms stretch of the same coastline being completed under budget and £3million from Anglian Water.
The partners funding the work have agreed that the surplus cash can now be used to shore up the cliffs.
The project – which involved 23 new beaches and rock groynes being built – was completed in October.
It was finished a year ahead of the expected timescale and cost £33.055m instead of the original budget of £36.083.
The work was funded by the Environment Agency (EA), Tendring District Council (TDC), and Essex County Council (ECC) with a further contribution from Anglian Water.
Nick Turner, TDC's Cabinet Member for Coast Protection and Seafronts, said that the partners were in the latter stages of finalising the bill for the major project.
"It has been brought in under time and under budget which is a massive credit to all those involved in the scheme," he said.
"Due to there being cash left over we have an opportunity to use that to stabilise the cliffs along that stretch of the seafront."
EA has already confirmed that its share of the unused pot, some £1.947m, can be used to stabilise the cliffs along with £0.081m from TDC's share and £3m from Anglian Water, making £5.028 available in all.
The aim is to follow on from the Coastal Protection Project and begin works as soon as possible and carry it out in phases.
Recent instabilities and weather events have resulted in investigations being undertaken on the slopes – some of which are over steep.
They will require regrading in places, replacement of drainage and retaining structures being constructed at the toes of the slope.
TDC's Cabinet agreed to proceed with the stabilisation scheme and also make £0.065m available to support remedial work being carried out following a build up of sand under Clacton Pier during the main project.