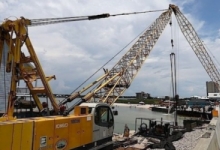 Posted on August 10, 2015
By Marc D. Anderson
Heavy equipment will begin to roll at Little Lagoon Pass in Gulf Shores this week with an ongoing dredging project ramping up additional sand-digging efforts.
The area has seen a steady stream of construction equipment since December 2013 when a $12.1 million Alabama Department of Transportation project began to replace the Lee Callaway Bridge. While the new span opened on April 20, crews still had to dismantle a temporary bridge and then on June 2 the current dredging project started.
Under a 1992 court order, the state highway department is required to keep the pass dredged to a depth of 3 feet to allow the free flow of saltwater into Little Lagoon, a 2,480-acre, ecologically vital coastal lake.
READ FULL ARTICLE HERE