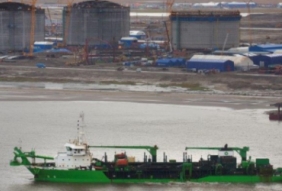 Posted on October 28, 2015
Mordraga LLC successfully completed this year's dredging operations at Sabetta port (Yamal), the Company told IAA PortNews. According to the statement, 12 vessels were involved.
Just like last year, the project was initiated by USK MOST Group who was appointed by the Russian Government as a sole contractor for the construction of major seaport facilities in Sabetta, scheduled from 2014 until 2019. The works executed under control of FSUE Rosmorport and Rosmorrechflot.
During the short ice-free season, from July until mid-October 2015 Mordraga -as subcontractor of USK MOST Group- worked at project in the Gulf of Ob. In Sabetta itself the company dredged a turning basin and a supply harbour. 150 kilometres further north, the company deepened a 50-kilometre stretch of a 205-metre wide fairway to 15.1 metres.
All vessels demobilized from Sabetta in safe way using Northern Sea Route before start of ice formation.
Managing a project of this scale demands seamless coordination between the project managers monitoring progress on individual ships, the surveyors taking constant measurements, and the ship crews themselves.
Founded in 2005 as part of the dredging, marine engineering and environmental group DEME, Mordraga LLC is implementing complex offshore projects in the Russian Federation.
Port Sabetta is being built under Yamal LNG project for shipments of export LNG. The Yamal LNG project envisages the launch of three LNG trains with a total expected capacity of 16.5 million metric tons of LNG per year. They are to be launched in 2017, 2018 and 2019 accordingly.