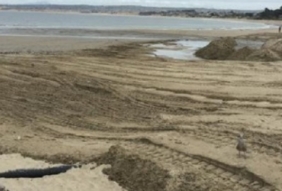 Posted on March 7, 2016
Monterey Harbor is doing its part to help coastal erosion with its dredging and beach nourishment project.
The city has a 10-year permit with from the Corps of Engineers allowing them to dredge the marina, removing built up silt and use the silt on Monterey beaches, which are desperately in need of sand.
"It's become really kind of a neat thing, where returning the marina itself to navigation depths also allows us to do beach nourishment, and rebuild the beach along Del Monte Beach, which this year we certainly need," said harbormaster Steve Scheiblauer.
The Southern end of Monterey Bay is the fastest eroding piece of California coastline losing about 6 feet a year, according to Scheiblauer.
The sand builds up during the summer and in the winter it gets eaten away, and it is worse and in El Nino year.
"The El Nino season, and the king tides that we've had, and the large long swell has been taking a considerable amount of the beach away," said Brian Nelson, who oversees the dredging about this year's conditions.
The silt is being pumped up from the bottom of the marina over to Del Monte beach via a pipe. Before being dredged the silt is tested by the Environmental Protection Agency to make sure it is clean and compatible with the beach.
The silt is a dark color at first but, Nelson said it will soon match the rest of the beach.
"It's about three days before it turns golden brown," Nelson said on Thursday.
Erosion is a problem up and down the coast of California and this El Nino year it has caused serious problem. In Pacifica eroding bluffs forced tenants to move out of ocean front apartments.
The Monterey Bay National Marine Sanctuary warns that sea level rise and erosion in Monterey could lead to serious problems for beach front properties in Monterey.
"Throw all these things to together, and then that humans have put structures in these zones, and then you have a problem to figure out," said Scheiblauer.
Scheiblauer said the city's beach nourishment project won't be enough to stop erosion completely in Monterey, it is only adding 10,000 cubic feet back, but he said it is a start.