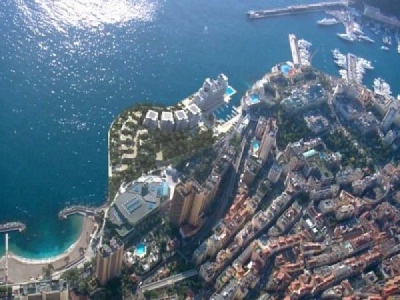 Posted on September 15, 2016
By Henry Samuel, The Telegraph
Monaco has started work on a €2 billion (£1.8 billion) operation to claim six hectares (15 acres) from the sea in the minuscule principality's latest attempt to build more luxury housing for the world's wealthiest residents.
The foundations for the titanic operation will take 40 months to complete and require dredging up and transporting hundreds of thousands of tons of sand from Sicily to create dry land, in a move that environmentalists warn will damage marine life.
With its palm-fringed boulevards and deep blue Mediterranean waters, the world's smallest city state after the Vatican has been attracting the fabulously wealthy for decades, from Russian billionaire Dmitry Rybolovlev to Formula One World Champion Lewis Hamilton.
But there is precious little room for more in an area not much bigger than Regent's Park, which helps to explain why its sky-high property prices saw Monaco recently become home to the world's most expensive penthouse in the Tour Odeon at an estimated €300 million.
The principality best known for its royal family and casino by the French Riviera currently has a surface of 485 acres, of which nearly 100 were recovered from the sea over the past few decades under Prince Rainier III – dubbed "the builder prince".
Perpetuating the tradition, his son, reigning Prince Albert II, gave the green light to a new "offshore urban extension project" featuring several luxury apartment blocks, a one hectare park, public facilities, a public car park, a marina with pedestrian wharves, a landscaped park, a seafront promenade and a Japanese garden. It will also have a small port.
In recent days, Bouygues, the construction company, began work on the foundations, starting with dredging operations via a giant offshore vacuum that spits out sediment at a depth of 200m.
A "protective belt" of 18 reinforced concrete 'caissons' – giant 26m-high cubes each weighing 10,000 tons – will be positioned to protect the new project from strong sea swells.
The sea trapped inside will then be replaced by rocks and filled with sand shipped in from northern Sicily.
Environmentalists and some scientists have warned, however, that the project will damage rare and fragile sea life.
Alexandre Meinesz, biologist at the university of Nice Sophia-Antipolis, said the small stretch of shallow waters off the shore before the sea rapidly deepens is "a veritable nursery with 500 types of seaweed and thousands of marine organisms and little fish".
"Covering over these shallow seabeds will reduce the biodiversity," he told France Bleu radio, adding that Monaco had already destroyed 80 per cent of its seabeds up to 10 meters deep in previous land extension projects.
But the principality and constructors insist every effort has been made to reduce the environmental impact of the project on marine life, including creating artificial reefs and relocating 47 large noble pen shells to a nearby marine reserve.
Monaco's "green" monarch, who drives an electric car and travelled to the North Pole to measure the effects of global warming, has previously said he wanted the vast project to be an eco-showcase that would set an example to the world.
He rejected an earlier £10 billion plan for an even bigger extension plan due to funding concerns in the wake of the 2008 financial crisis and fears it would damage the marine environment.
The principality is not paying a centime for the project but will receive an undisclosed payment for the concession and will own public buildings on the new site estimated to be worth €500 million.
It is due to take 10 years to complete.
Source: The Telegraph