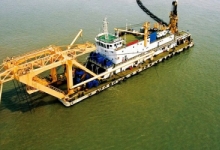 Posted on August 25, 2015
By Joseph Burite
Kenya's port of Mombasa last week handled the Maersk-operated, MV Clemens Schulte, the first time a container vessel with almost 6000 TEU capacity is calling on the East African coastline.
According to a Kenya Ports Authority statement, 'The arrival of the ship signifies yet another benefit of the completed capacity expansion projects. The dredging of port entry channel to the depth of minus 15 meters and widening of turning basin to 300 meters at its narrowest point.'
The port management said hosting the ship is a result of expansion works implemented in recent years.
"The other successful key project is the construction of the 240 meter –long Berth 19 which increased the total quay length of Mombasa container terminal to 840m and the container terminal's capability to accommodate three third generation container vessels at ago," it reads in part.
READ FULL ARTICLE HERE