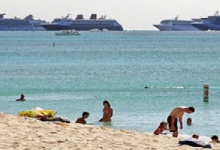 Posted on August 11, 2015
By James Whittaker, Cayman Compass.com
Facing pressure from pro-cruise port campaigners, government has released a draft of a management plan aimed at reducing environmental damage during the construction phase of the controversial project.
Environment Minister Wayne Panton said the document contained no "magic solutions" to the threats identified in an environmental impact assessment.
He said it was a draft plan that would have to be reviewed and finalized if government decided to proceed with the proposed project to build two cruise ship piers in George Town harbor.
It was not part of the public consultation process and was not originally intended for public release at this stage, he added.
READ FULL ARTICLE HERE