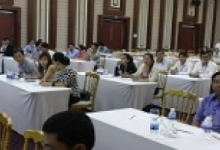 Posted on June 4, 2015
Thirty companies joined in the bidding to get licenses for sand dredging in the Ksach Kandal and the Mok Kampoul district in Kandal province, and in the Kang Measdistrict of Kampong Cham province.
The secretary of state of the Ministry of Mines, Ho Vichet, said that the ministry put up four plots for auction, and 40 companies applied for permits to bid at the live auction, but only 30 showed up.
The auction will be over in the early evening, and only then can the ministry publish the names of the companies who will get their licenses.