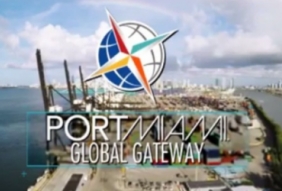 Posted on September 30, 2015
PortMiami's $1 billion harbor deepening project is complete making it the only major logistics hub south of Virginia capable of handling fully laden post-Panamax vessels.
The Port of Miami's entrance port now has a channel depth of 52 feet and the outermost portion of the entrance channel has been expanded to 800 feet. The project also widened portions of the inner channel and deepened it to 50 feet. In total, five different dredges removed more than five million cubic yards of rock, limestone and sand.
PortMiami now offers Super Post-Panamax gantry cranes that can service cargo vessels up to 22 containers wide and up to nine containers above deck and eleven containers below. On-dock intermodal rail service in partnership with Florida East Coast Railway link PortMiami to 70 percent of the U.S. population in four days or less. Additionally, a new fast access tunnel connects the port directly to the United States Interstate Highway System providing rapid turnaround time for the movement of import and export goods.
The United States Army Corps of Engineers managed the project. Great Lakes Dredge and Dock Company was the contractor selected for the deepening of PortMiami's channel dredging which began in August 2013.
Though the shipping industry is elated by the project's completion, environmentalists are not nearly as thrilled.
The National Oceanic and Atmospheric Administration (NOAA) recently released a report which stated that 23 percent of the staghorn coral in the dredging area was dead or dying since the project's onset. And last October, environmentalist groups sued and won settlement of $400,000 to relocate the staghorn coral from the project area.
PortMiami officials respond to these concerns by saying they have already completed environmental mitigation features for the project. The creation of 17 acres of new seagrass beds and 11 acres of artificial reef and thousands of coral relocations are among the mitigation projects. PortMiami also stated its plans to collaborate with environmental agencies to minimize risk to marine life.