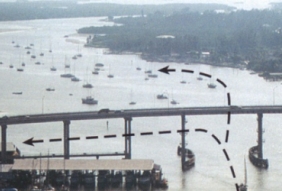 Posted on March 21, 2016
By John Morton, FortMyers BeachTalk.com
For the first time since 2009, major dredging will occur this summer in Matanzas Pass, giving relief to the boats that travel along the federal channel and sometimes bottom out.
"Right now, by the point (of Estero Island's northern tip) I'd say it's about only 8 or 9 feet deep at low tide," said Dennis Henderson, co-owner of Trico Shrimp Company on San Carlos Island. "We're getting stuck."
The project, to be funded and overseen by the U.S. Army Corps of Engineers, will result in the removal of approximately 130,000 cubic yards of sand, bringing the channel to a recommended depth of at least 14 feet. The cost is projected between $1 million and $5 million.
READ FULL ARTICLE HERE