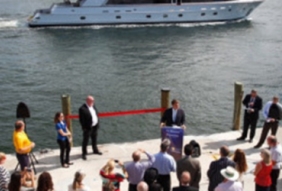 Posted on November 13, 2015
The Florida Inland Navigation District, which oversees the navigability of Florida's Atlantic ICW, announced Wednesday at a press conference at Lauderdale Marina on the ICW that it awarded a $20 million contract to Cashman Dredging of Quincy, Massachusetts, to dredge the ICW to a depth of 17 feet from the 17th Street Causeway Bridge to Sunrise Boulevard. The existing depth is 13 to 14 feet.
With help from FIND's waterway assistance program, the project will include deepening and redesigning secondary access channels from the ICW to the Las Olas and Bahia Mar marinas, both important superyacht venues during the annual November boat show, according to FIND assistant director Janet Zimmerman.
"It's not good to bring a new boat to the show and touch bottom," she said.
Phil Purcell, executive director of the Marine Industries Association of South Florida, counts eight marinas with superyacht dockage along the ICW between 17th Street and Sunrise Boulevard. After the dredging that stretch should be able to accommodate yachts of 250 to 300 feet, depending on the tide, he said.
He anticipates a big economic benefit from the dredging. FIND completed a $7 million dredging project on the Dania Cutoff Canal in 2013, and by this year boatyards along the canal were reporting 54 percent more vessels coming in for repairs than in pre-dredge times. The 2015 figures are based on estimates derived from yard surveys done in August.
Economist Thomas J. Murray estimates a $23.4 million increase in economic output from the Dania dredging project, 132 new jobs, $6.6 million in labor income and $800,000 in increased tax revenue in Broward County.
The economic benefit from the $20 million ICW dredging will be huge, Purcell said, not to mention its benefit to the boat show, which he calls the region's "annual Super Bowl."
"We've probably been working on permitting for this for 12 to 15 years," said Mark Crosley, FIND's executive director. "It's a lengthy and time-consuming process."
FIND raises money for dredging and other ICW projects through an ad valorem tax levied against all properties in the 12 counties along the Florida Atlantic ICW.
"We've got 24 months to get it done," Fort Lauderdale Mayor Jack Seiler said of the dredging. "We hope it will get done by the boat show two years from now."