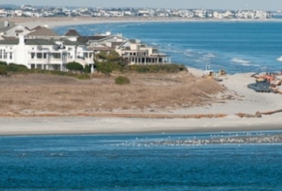 Posted on January 3, 2016
By Emmy Errante, Lumina News
The New Hanover County Board of Commissioners will provide funds to a $3.6 million project to correct the southward migration of Mason Inlet, which separates Wrightsville Beach from Figure Eight Island, by nudging the inlet north.
The board agreed on Dec. 14 to fund the project through the room occupancy tax under the condition that the county is reimbursed by property owners on Wrightsville's north end and Figure Eight's south end. The project is scheduled to begin in January 2016.
Those 1,044 property owners whose homes could be affected by the inlet's migration make up the Mason Inlet Preservation Group and through a 2001 agreement are responsible for funding the inlet's maintenance.
READ FULL ARTICLE HERE