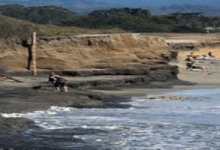 Posted on August 10, 2015
By Clay Lambert, Half Moon Bay Review
The superintendent of the Greater Farallones National Marine Sanctuary indicated last week that her agency would support some efforts to shore up Surfer's Beach, and local officials consider the communiqué a positive sign.
In a letter dated July 28, GFNMS Superintendent Maria Brown wrote that her agency would coordinate with the San Mateo County Harbor District and a host of state and federal agencies as they seek to ease erosion at one of the area's most popular beaches.
Beach lovers have long complained that the design of harbor breakwaters — installed by the U.S. Army Corps of Engineers years ago — contributes to erosion on the beach below. The Army Corps says it's near the end of a six-year, million-dollar study of the problem. In the meantime, San Mateo County has initiated a $1.6 million "armoring" project designed to use rip-rap to protect nearby Highway 1, which would be lost if nothing is done to check erosion.
READ FULL ARTICLE HERE