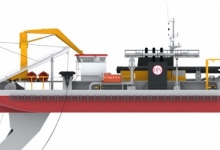 Posted on August 24, 2015
By Tony Slinn
German manufacturer MAN Diesel & Turbo is to supply the engines for what will be the world's largest cutter suction dredger (CSD), ordered by Belgium dredging company Jan De Nul.
Currently designated JDN8069 and being built at Croatian shipyard Uljanik Brodogradiliste in Pula, the vessel will feature one MAN 14V48/60CR and two MAN 9L48/60CR engines.
It will also have three step-up Renk Rheine gearboxes for its diesel-electric plant – and Renk will also deliver the gearboxes for the cutterhead drive as well as for the dredge and booster pumps.
READ FULL ARTICLE HERE