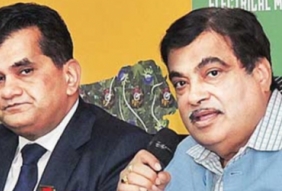 Nitin Gadkari
Posted on February 18, 2016
Minister of Roads and Highways Nitin Gadkari on Tuesday announced policies for developing logistics hubs using 350 ring roads; development of 2,000 ports along 14,000 km of coast and introduction of e-tolling across 360 toll plazas.
Gadkari told reporters at the Make in India Week the money was not a problem in rolling out the project but issues relating to the system needed to be speedily sorted. The minister also said he hoped the finance minister would allocate Rs 65,000 crore for roads, highways, ports and shipping in the coming Budget from the present Rs 45,000 crore.
On the logistic hub, Gadkari said the objective was to reduce logistics cost (currently 18 per cent of the total). It was eight per cent in China and eight to 10 per cent in European countries. "The proposed logistic hubs will house godowns, storages, pre-cooling centres, cold storages and residential units. They will be spread over 2,000 to 3,000 acres along the 350 ring roads," he said.
Besides, Gadkari said his ministry had firmed up plan for developing of 2,000 ports in five years. "The tenders will be issued by the end of 2016 for the Wadhavan (Maharashtra), Colachel (Tamil Nadu) and Sagar (West Bengal) ports. This apart, the ministry will spend Rs 18,000 crore on the expansion of 12 ports."
Funds won't be a problem, he said. Government undertakings Shipping Corporation of India, Dredging Corporation and Cochin Shipyards together posted yearly profit of Rs 6,000 crore, and would contribute. The rest would be raised from banks, financial institutions and through multiple instruments.
On the introduction of e-tolling, Gadkari said it would be introduced at 360 toll plazas on the national highways. This would help avoid manual toll payment. A company of two banks and a government undertaking has been formed for the purpose of e-toll collection.
Further, Gadkari said his ministry has taken 21 decisions to expedite the development of roads and highways across the country. "The number of stressed projects have been drastically brought down to 41 projects from 384 projects worth Rs 3.80 lakh crore in May 2014, when the BJP-led government took over. Now, only seven projects worth Rs 20,000 crore are stressed ones."
According to Gadkari, road projects worth Rs 1.52 lakh crore would be launched after March-April.