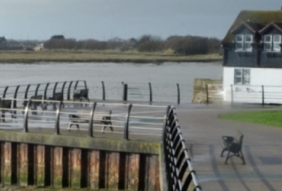 Posted on March 14, 2016
A £25 MILLION flood defence scheme for Shoreham could be given the green light next week.
The Adur Tidal Walls scheme, which aims to protect the town from a one-in-300-year flood, will be determined by Adur District Council's planning committee on Monday.
James Fuller, project manager for the Environment Agency, presented the plans to Adur county local committee on Thursday.
He said: "This scheme represents a massive opportunity to the community to get maximum value out of the project and make sure we have a scheme that everybody is proud of."
The project will protect more than 2,200 residential properties and 169 businesses.
It takes into account a sea level rise of up to 50 years.
Construction will be split into ten sections, or 'reaches', with work on the west bank of the Adur stretching from Shoreham Fort to Ricardo.
East bank work will begin west of Coronation Green, ending with the 1.6 metre raising of the A283, south of the Cloverleaf roundabout.
Works will start in the summer, subject to planning permission.
Joss Loader, chairman of Shoreham Beach Residents' Association, said: "It's good news that the Adur Tidal Walls Scheme is about to go before Adur planners as the £25million project is obviously vital for Shoreham Beach's protection.
"Once construction starts, we know it will cause a lot of disruption locally and this is inevitable for a project of this size and duration.
"We will ask the Environment Agency to continue working with residents to ensure they're kept fully in the loop about construction timescales and potential issues. "
CLC members questioned Mr Fuller on the project, including queries about the contractor – Dutch firm Team Van Oord. Mr Fuller said Shoreham-based Mackley, which is now part of the Team Van Oord group, was heavily involved in the scheme.
UKIP councillor for Saltings, Mick Clark, asked whether the steel used for the sea defences would be sourced from the UK. Mr Fuller said initial supplies were being sourced from Luxembourg.
The scheme is being led by the agency, with Adur District Council, West Sussex County Council and Coast to Capital partners. A total of £18.25million has been pledged by the Government.
The planning application, recommended for approval, will be heard at the Shoreham Centre from 7pm.