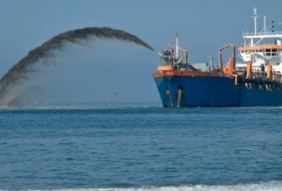 Posted on November 30, 2015
Maintenance dredging at both the port of Walvis Bay and the port of Lüderitz is conducted periodically at intervals of approximately five to ten years as part of the ongoing maintenance programme of the Namibia Ports Authority (Namport). The last maintenance dredging was carried out in 2004.
This exercise involves the removal of the fine silt which settles in a dredged area over time as part of a natural process. If periodic maintenance dredging is not conducted it will result in depths in the port becoming too shallow for safe navigation.
"Namport's maintenance dredging plan also includes the port of Walvis Bay fishing harbour, but excludes the water area between the fishing harbour jetties, because the fishing factories and jetties are privately owned. Namport only maintains the common dredged areas that are used by everyone," explained Tana Pesat, Namport corporate communications manager.
Namport also conducts regular bath­ymetric surveys, which is the study of underwater depth and ocean floors. Bathymetric surveys conducted by Namport over the last few years indicate that siltation has accumulated in the port of Walvis Bay fishing harbour as well as the port of Lüderitz to an extent that it needs to be removed as soon as possible.
Namport issued a public tender for maintenance dredging in the two ports at the end of 2014 and awarded the tender valued at N$115 million to the Consortium Luxury Investment 249 and Jan De Nul Dredging. The De Laperouse, a trailer suction hopper dredger (TSHD), is used for maintenance dredging in both ports. The scope of works of the maintenance dredging contract involves deepening the channel depth (CD) of the port of Walvis Bay tanker berth to -10.4 m, the fishing harbour basin to -7.0 m and the channel depth of the port of Lüderitz to its various designed depths. (OF)