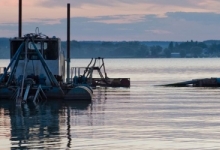 Posted on August 25, 2015
Navigability crisis has badly disrupted ferry services on the Shimulia-Kawrakandi route in the past two weeks, multiplying the woes of thousands of passengers of 21 southern districts.
As four ro-ro ferries have remained out of operation for two weeks, 14 medium and small ferries transported goods and passengers during this period.
But operations of medium and small ferries are halted sometimes due to navigability crisis and strong current in the mighty River Padma, said Giasuddin Patwary, assistant manager of Bangladesh Inland Water Transport Authority (BIWTA) at Shimulia ferry terminal yesterday.
The latest disruption hit Shimulia terminal, the gateway to one of the key ferry routes in the country, late on Thursday night and lasted for nearly nine hours before the resumption of services around 10:30am yesterday.
More than 500 transports were stuck on both sides of the Padma River because of the disruption, leading to huge tailbacks as well as sufferings for passengers.
Local sources said a huge number of underwater shoals have formed in the channels of the ferry routes between Mawa and Kawrakandi due to irregular dredging.
He said: "As the authorities concerned do not dredge the riverbed, shoals emerge there that leads suffering to people."
Rafiq Mia, a resident of Tongibari upazila headquarters, was waiting to cross the river in the morning, said: "I have to visit my sister's house at Gopalganj sadar upazila, as she is sick, but I cannot for the disruption of ferry service."
He also said he was trying the cross the river by speedboat which would multiply his travel cost.
Hazera Khatun, a resident of Kayettuli in Old Dhaka, said: "I am waiting in the bus for four hours, but I do not know when I will be able to reach Shariatpur."
But a BIWTA source seeking anonymity told the Dhaka Tribune that dredging was carried out to overcome navigability crisis, but the scale of the operation proved inadequate.
"The depth of water in channels should not be below 7.50 feet for smooth operation of ro-ro ferries but it was 6.25 feet over a 100ft area at Louhajang turning point in the Padma River during high tide on Thursday morning," said BIWTC Marine Officer Md Shahjahan.
Deputy Director of Bangladesh Inland Water Transport Authority SM Ajgar Ali said: "Dredging at Louhajang turning point began two days after Eid-ul-Fitr and is still going on but sediment brought in by tides is filling up the channels that have been dredged."
Officials said only the small ferries are now operating without any element of risk but those will also pose a risk if the depth of water decreases further.