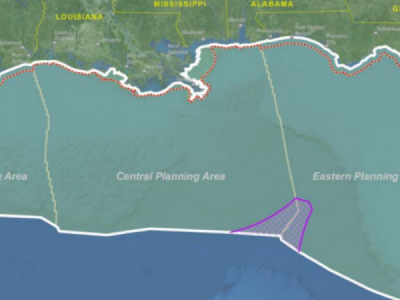 Photo: NREL/BOEM
Posted on November 12, 2020
Louisiana Governor John Bel Edwards has announced a renewable energy initiative for the Gulf of Mexico, which revolves around offshore wind.
On 9 November, Edwards presented his vision at an inaugural meeting of the Climate Initiatives Task Force established earlier this year, for which offshore wind energy will be one of the strategies pursued to lower greenhouse gas emissions.
The state's governor said he had asked the U.S. Bureau of Ocean Energy Management (BOEM) to help establish a task force of federal, state and local officials that would work on building a blueprint for renewable energy production in the Gulf of Mexico. The task force will coordinate commercial offshore wind leasing proposals for the federal waters off Louisiana's coast, which would create a business path for development of wind farms in the Gulf of Mexico.
"This is not some 'pie in the sky' promise of economic opportunity. We already have an emerging offshore wind energy industry, and Louisiana's offshore oil and gas industry has played a key role in the early development of U.S. offshore wind energy in the Atlantic Ocean", Governor Edwards said.
The first commercial offshore wind farm in the U.S., built off Rhode Island, has involved several companies from Louisiana, including Keystone Engineering, Gulf Island Fabrication, Aries Marine and Falcon Global.
"As technology and expertise advances, we should explore additional opportunities in energy, such as offshore wind", said Don Pierson, Secretary of Louisiana Economic Development. "Some of the state's offshore oil and gas service-providers have already played a key role in the early development of offshore wind projects off the East Coast, so it makes plenty of sense to pursue that renewable energy source and the associated economic benefits".
A 600 MW offshore wind farm in the Gulf of Mexico, with a commercial operation date of 2030, would bring some 4,470 jobs and USD 445 million in gross domestic product (GDP) during construction, according to a study released by BOEM and the National Renewable Energy Laboratory (NREL) earlier this year.
During the operational stage, a project of this capacity would create around 150 ongoing jobs and bring in USD 14 million annually.
The study did not include the likely further jobs or impacts in the Gulf of Mexico that may be created while supporting offshore wind projects built in other regions of the U.S., or the world.
Source: offshore-energy.biz