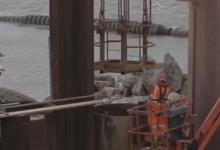 Posted on June 19, 2015
By MarEx, The Maritime Executive
Construction at the new £300 million ($500million) container terminal being built at the Port of Liverpool has reached an advanced stage. Work to reclaim 12 hectares of land has passed the first stage with further infilling due to take place over the summer.
The majority of 296 steel piles have been driven into the seabed, allowing the infilling of 1.43 million tonnes of sand and silts taken from the Mersey estuary and deposited behind the new quay wall, up to a level of (+)6 metres above ordinary datum.
Doug Coleman, Liverpool2's Construction Director, said: "There are very few projects of this kind and scale going on in the UK, especially considering the impact of the exceptional tidal range.
READ FULL ARTICLE HERE