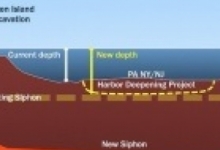 Posted on June 19, 2015
Now that excavation has been completed for a new water tunnel between Brooklyn and Staten Island, the final stages of the 25-year New York and New Jersey Harbor deepening project have been set in motion.
Dug between two shallow water tunnels, known as siphons, and used to ensure a backup water supply for Staten Island, the new, $250 million tunnel originates in Bay Ridge, Brooklyn, and crosses the Anchorage Channel north of the Verrazano-Narrows Bridge at a depth of 100 feet. Once it is activated and the existing tunnels are removed by next year, the new tunnel will allow the channel to be dredged to 50 feet below mean low water, to accommodate the new generation of cargo vessels that now traverse the globe. These ships will call more frequently in New York Harbor once Panama Canal capacity expands in 2016.
The Anchorage Channel is one of the most heavily-used shipping channels in the world with more than 5,000 ships passing through it every year. According to The Port Authority of New York & New Jersey, the Port of New York and New Jersey by tonnage is the third largest in the country and the busiest on the East Coast. The port provides nearly 300,000 jobs and $12 billion in annual wages to the region.