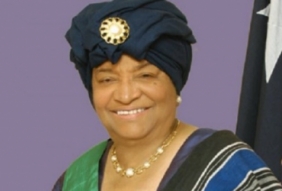 Ellen Sirleaf
Posted on January 26, 2016
Liberia President Ellen Sirleaf has reaffirmed government's commitment to doing business with Belgian firms in a bid to revitalize the bilateral relationship between both countries, especially in the areas of trade and commerce.In remarks when she met with a joint Belgium-Luxembourg Preparatory Trade and Investment delegation at the Ministry of Foreign Affairs in Monrovia Friday, the Liberian leader said she was pleased that most of the companies wishing to invest in the country are already operating here.
The meeting was the climax of an exploratory mission by the delegation, which was headed by Belgium's Minister of Foreign Trade Peter De Crem. Their visit was aimed at exploring possibilities for doing business in Liberia through partnerships with local and state institutions.
President Sirleaf assured members of the delegation that the government will establish a network between investors and relevant government authorities to ensure that their mission of improving Liberia's business and economic sectors is realized.
She lauded Minister De Crem for leading such a high power business delegation to Liberia and called on them to put in place a strong monitoring scheme to ensure checks and balances so that what has started can yield dividends.
Meanwhile, Bet Williams, the Business Development Manager of Jan De Nul, one of the companies that have expressed interest to invest in Liberia, noted that his company, which specializes in dredging and renovation, is interested in investing in the ports of Liberia.
Williams disclosed that during their exploratory mission in the country, he held talks with National Port Authority's (NPA) Managing Director David Williams and Commerce Minister Axel Addy on how his company can improve the ports, trade and shipping.
Jan De Nul, has for more than 60 years executed international dredging and reclamation projects from start to finish, done capital dredging and maintenance works in ports, deepened channels, beach replenishment, dredging rock or sand banks in open sea condition.