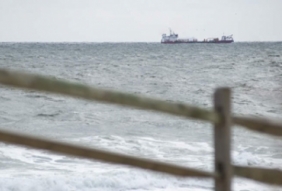 Posted on December 9, 2015
Following completion of the current project segment in southern Long Beach Township, beach replenishment work on Long Beach Island could be suspended until next spring, according to the U.S. Army Corps of Engineers.
"This week, our contractor, Great Lakes Dredge & Dock Co., provided information to the Army Corps that they plan to move dredges from Long Beach Island to other projects in different regions of the country and then return in April to complete the project," said Corps Public Affairs Officer Steve Rochette last Friday, Dec. 4. "Our expectation is that they will still complete the project by the completion date in May based on our contract. We are currently coordinating with the state and Great Lakes Dredge & Dock Co. as our goal is to complete the project as soon as possible."
Beach Haven Mayor Nancy Taggart Davis is displeased with the news of a possible project delay, which could impact her town.
"We in Beach Haven are very disappointed that Great Lakes has chosen us to be the town that it is deserting to complete another job. Beach Haven has been pushed to the back burner many times on this job," stated Taggart Davis.
Rochette said the contractor estimates current operations – from the previously constructed beaches at 57th Street in Brant Beach to Nebraska Avenue in Beach Haven Park – will be finished around the start of January.
Great Lakes, as of a fewweeks ago, had then planned to renourish North Beach and a small, previously unconstructed section of Surf City, then jump to Beach Haven and continue south through Holgate, with Loveladies also on the docket for sometime this winter or early spring.
Now, though, it seems the dredges will likely travel in January from LBI to Georgia, where Great Lakes was awarded contracts for projects with, purportedly, strict timelines related to environmental matters. This new development means Beach Haven, Holgate, North Beach and Loveladies would not see beachfill work until at least April of next year.
"We realize that the job in Georgia is critical as it is military related," said Taggart Davis. "There are other jobs along the coast that haven't had to sacrifice their safety to give up a barge. We feel strongly that it is in the best interest of Long Beach Island and Beach Haven to complete our replenishment as quickly as possible.
"We have employed all the political pressure possible to get Great Lakes back on the job. We will continue to lobby to get the job done as quickly as possible. As we've done everything in our power to encourage Great Lakes to continue on Long Beach Island, it is important to make sure people understand that we are totally behind this project and we are doing everything possible to get the job done as soon as possible."
The mayor said she spoke with U.S. Congressman Frank LoBiondo (R-N.J.) last week, and "he is working to try to speed up our replenishment."
"It's my understanding that we are between a rock and a hard place as there is very little competition in the dredging arena," she said. "Not only do we have our U.S. congressman and our state Senate leader and state congresswoman behind us, but the New Jersey DPA and the Army Corps are supporting a rapid completion of this project."
Questions were reportedly raised in a recent meeting of representatives of Great Lakes, the Army Corps and the state of New Jersey as to whether this scheduling change could push the LBI project past the completion date of May 23, 2016, and into the summer months.
The Army Corps awarded a $128 million contract to Great Lakes in December 2014 to complete the LBI replenishment, a joint effort of the Army Corps and the New Jersey Department of Environmental Protection.
As noted on the Corps' project website, nap.usace.army.mil, "The Army Corps completed the initial construction of the project at Surf City in 2006; Harvey Cedars in 2010; and Brant Beach between 31st and 57th Streets in Long Beach Township in 2012. The Army Corps repaired beaches in Surf City and Harvey Cedars … after Hurricane Irene, and fully restored the beaches within all three communities after Hurricane Sandy."
Replenishment efforts began in early May of this year in Ship Bottom, then moved to Long Beach Township. —J.K.-H. and K.A.E.