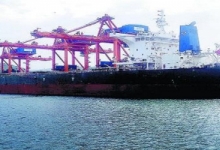 Posted on July 24, 2015
Visakhapatnam Port has added yet another feather to its cap when it received m.v. Han Fu Star, the larges-ever bulk carrier it berthed in its history.
Since it was made operational in 1933, the port received largest-ever Cape vessel generating a lot of interest among port community. Vizag General Cargo Berth Private Limited (VGCBPL), one of the BOT operators of Visakhapatnam Port, received the bulk carrier from Richards Bay, South Africa carrying steam coal for Jindal Steel and Power limited on Friday. The ship's over all length is 291.80 M. The discharge will be completed on Sunday.
When contacted, VGCBPL CEO D.K. Manral told The Hindu on Saturday The port with its mechanised terminals is equipped to handle fully laden Cape vessels benefiting importers on account of high efficiency leading to fast turnaround of vessel assuring low ocean freight.
Due to mechanisation, there is heavy demand for coal importers to use the facilities at Visakhapatnam Port particularly the Vedanta berth (VGCBPL) from various parties in South Africa, Australia and Chile. "Due to port's emphasis on handling non-polluting coal, we have restricted imports only to high quality coal," Mr. Manral said.
VGCBL which commissioned the fully automatic coal terminal in April 2013 received the first Cape vessel without lightening after completion of dredging in the Outer Harbour on March 9, 2014. It has so far handled 13 million tonnes.
The Outer Harbour dredging was undertaken by the port by engaging International Seaport Dredging Ltd at a cost of Rs.139.88 crore. The Inner Harbour dredging is on verge of completion to increase the draft to 14 metres. Soft and rock strata dredging are undertaken separately by Dredging Corporation of India and Dharti Dredging.