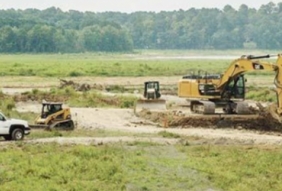 Posted on November 23, 2015
When it comes to completing the dredging of Lake Peachtree, it is close but not quite complete. More than 10 inches of rain nearly filled the lake last week, requiring that dredging crews hold off on further work until the water level subsides, "weather permitting."
It was in early march that Massana Construction began the process of removing what was initially estimated to be 64,000 cubic yards of material from the lake.
To date, Massana, has removed 59,595 cubic yards of silt from Lake Peachtree and there are 8,000 cubic yards (1,000 truckloads) to be hauled away, City Clerk BetsyTyler said Monday.
"Lake Peachtree was close to being full last week due to the heavy rainfall this month (over 10 inches of rain in weeks). The dredging project is also close to being complete," Tyler said. "City and county officials and staff met last week at Lake Peachtree to review the dredging and vegetation removal work completed so far, and to determine what remains to be completed and whether any of that remaining work can be cancelled and allow the almost re-filled lake to remain full. Unfortunately, the answer is no."
Tyler said other remaining work components includes several large piles of soil near the All Children's Playground, as well as the haul roads Massana constructed for the dredging project.
All of these components must be removed, and they are too far into the lake to reach from shore. Massana also still has equipment remaining in the lake bed, Tyler said.
"Since the lake was close to being full, it will take a few weeks to lower the water level enough to drain the remaining work area," Tyler said Monday. "Once the lake level is lowered, it may take another few weeks to drain the work area to remove the remaining equipment and accumulated soil. At this time, the best estimate for completion of the dredging project would be into December, weather permitting."
Tyler reminded residents to stay out of construction zones, including Drake Field, until the dredging is completed.
Vegetation removal from the lake bed will continue this week and will be removed from the surface once dredging is complete and the lake begins to fill, she said.
Tyler said the Battery Way boat dock will be replaced at the same location with a new structure once Lake Peachtree has been refilled.