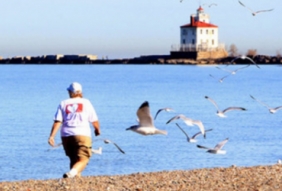 Posted on January 3, 2016
By James F. McCarty, Cleveland Connects
Lake Erie is a big winner in Congress's proposed year-end appropriations bill, with millions of dollars earmarked for dredging Cleveland Harbor, reducing harmful algal blooms, restoring habitat and improving water quality as part of the Great Lakes Restoration Initiative.
U.S. Sen. Sherrod Brown, Ohio Democrat, touted the congressional initiatives today, emphasizing that the bill contains provisions that would prevent the Army Corps of Engineers from dumping dredged material from the harbor and Cuyahoga River shipping channel directly into Lake Erie.
In a letter penned last month, Lt. Col. Karl Jansen, commander of the Army Corps' district office in Buffalo, gave notice that he believed the dredged sediment from the upper river channel is not toxic and is suitable for open-lake placement.
READ FULL ARTICLE HERE