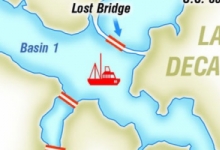 Posted on June 23, 2015
Wet weather slowed work to increase the storage space for sediment from Lake Decatur, but dredging operations continued without issue last week.
Crews from Terra Contracting Services have been working to raise the berms around a 523-acre site in Oakley, increasing the basin's capacity to hold sediment pumped out of the lake. But the earthwork requires dry weather, said Jerry Stevens, engineering services coordinator for the city's water management department.
"They're trying to do as much as they can when they can, and keep the project rolling from the sedimentation basin side of things," he said.
Great Lakes Dredge & Dock crews have fared better, as the dredging operations can continue during rain.
Stevens said they have about two weeks of work ahead in Basin 1 before moving to the Big Creek area, where they are expected to spend the rest of this year and early part of next year.
Since work began in late October, Great Lakes has removed 926,039 cubic yards of sediment from the lake.
In 2015, it took out 568,372 cubic yards, and removed 28,189 cubic yards in the first half of June.
One cubic yard is equal to about 200 gallons of material. The total project calls for the removal of 10.8 million cubic yards of sediment from the lake, which will gain about 30 percent more capacity, officials have said.
There are 32 employees working for Great Lakes, 19 of whom live in Macon or adjacent counties. Terra has 21 employees, 19 of whom come from the same local area, Stevens said.