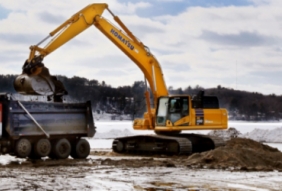 Posted on March 14, 2016
Contractor Haas Sons of Thorp began carving sediment this week out of the east side of Lake Altoona.
The company had the low bid of $836,000 to win a contract from the Lake Altoona Lake District to remove about 186,000 cubic yards from the lake bottom.
Dredging had been done in previous years during warmer months using machinery that vacuums a mix of water and silt from the lake bottom and deposits it near Bullhead Pond in the town of Seymour. This winter's especially low lake drawdown needed to repair the Altoona dam also allows dredging to be done at a lower cost through normal excavation of the sediment and trucking it to the usual dump site
The current dredging is being done to an area that's usually about a half-foot deep in summer; it will now be 3 feet deep.