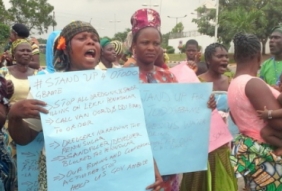 Posted on April 4, 2016
By Ben Ezeamalu, Premium Times
?Over 100 slum dwellers in Otodo Gbame community besieged the Lagos State Government House, Wednesday, protesting dredging and sand-filling activities near their homes.
Otodo Gbame is a predominantly fishing village in Lekki.
The community people demanded an immediate stop to the dredging activities at the Otodo Gbame lagoon by Destiny Dredgers' International (DDI) Ltd, purportedly owned by Lekki Gardens.
?"The sand-filling by DDI is causing serious suffering and hardship to the people of Otodo Gbame and is even threatening our way of life and very existence," the community stated in a letter to Governor Akinwunmi Ambode and Mudashiru Obasa, Speaker of the Lagos State House of Assembly.
READ FULL ARTICLE HERE