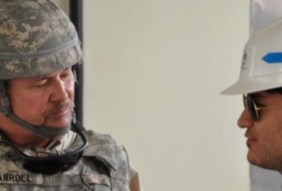 Thomas Carroll
Posted on October 20, 2015
A U.S. Army Corps of Engineers – Transatlantic Afghanistan District employee has been named the top engineer for the entire Transatlantic Division.
Thomas "Clark" Carroll, a project engineer at the Qargha Project Office within TAA's Kabul Area Office, has been chosen as the recipient of TAD's Hard Hat of the Year for his work in Afghanistan.
"I was extremely and very surprised and humbled," Carroll said upon learning of the honor. "I'm still shocked. Wow! I don't think I have done anything extraordinary to deserve this award."
A 33-year veteran of the Corps, Carroll works out of the Lafayette Project Office of the New Orleans District as a project engineer. This is his first deployment. He has been with USACE-TAA since December 2013.
"I came to Afghanistan for a nine-month deployment. After deciding that I really enjoyed the work and challenges associated with it, I have extended a few times," he said.
Carroll is responsible for overseeing the construction at the Marshal Fahim National Defense University, a $227-million project on the outskirts of Kabul. Once completed, the 105-acre facility will host a majority of the training schools for the Afghan National Army (ANA), to include the already up and running National Military Academy of Afghanistan (NMAA), modeled after the U.S. Military Academy (West Point), and the Afghan National Army Officer Academy (ANAOA), modeled after the British Royal Military Academy Sandhurst.
"Clark has been the driving force in the successful progress USACE-TAA has made at the Marshal Fahim National Defense University," said Col. Paul Owen, commander, USACE-TAA. "His work on the $227 million, multi-phased project has already started to bring huge benefits for the professionalism of the Afghanistan National Army."
Charged with overseeing more than 800 Afghan construction workers, Owen cited Carroll's ability to foster a close, professional, working relationship with his Afghan and coalition partners as an invaluable asset.