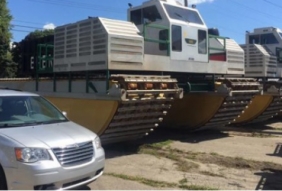 Posted on September 7, 2015
By Jeri Packer, The Voice
The end of August was an exciting time for Clay Township, as tons of heavy equipment was brought to the ferry dock waiting to be transported to the island.
The amphibious dump trucks are mobile vehicles equipped to dig out dirt and sediment that accumulate in drains. The Krispin Drain has been impassable for years, but thanks to a full grant from the Great Lakes Restoration Initiative, the cut will once again be opened and brought back to its original state.
The first step was treating and mowing the thick crop of phragmites that sopped up the water and formed an impenetrable wall against any aquatic activity or wildlife. With that done, they finally were ready to dig.
READ FULL ARTICLE HERE