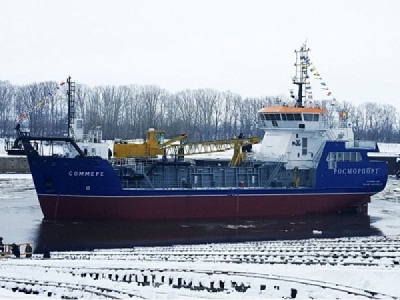 Posted on October 3, 2016
Krasnoye Sormovo shipyard (part of United Shipbuilding Corporation) and FSUE Rosmorport will launch the Kadosh, third ship of TSHD 1000 design, on 5 October 2016, says the shipbuilding company.
First two ships of TSHD 1000 design, named Sommers and Kronshlot, have been delivered to the customer.
The contract between Rosmorport and Krasnoye Sormovo shipyard was signed in April 2014 with the assistance of MNP Group.
The TSHD 1000 was designed by Damen Shipyards Gorinchem (Netherlands) and working design documentation was provided by Volga-Caspian Design Bureau (MNP Group, Russia).
Vessel particulars: LOA – 62,6 m; Beam – 14 m; Draft – 4,25 m: Hopper capacity – 1000 m3; Deadweight – 1685 tonnes; Trailing pipe diameter 500 mm; Total installed power 3225 kW.
Class notation: KM(*) Ice1 R1 AUT2 Hopper Dredger.
The TSHD 1000 series vessels feature outstanding dredging capabilities to dredge to a depth of 20 meters and operate at water temperatures -2 ° C to + 20 ° C.
Krasnoye Sormovo Plant is one of the oldest Russian shipbuilding companies, founded back in 1849. All vessels built at Krasnoye Sormovo shipyard meet the requirements of MARPOL conventions, having the state-of-the-art equipment. The shipyard specializes in civil shipbuilding, construction of sea-going and mixed river-sea vessels. Some of the ships built by Krasnoye Sormovo are in the list of Significant Ships of RINA.
United Shipbuilding Corporation (USC OJSC) is the largest shipbuilding company in Russia. It was set up in 2007 with 100% federal ownership. The holding comprises 60 companies and organizations (major shipbuilding and shiprepairing companies as well as leading design bureaus). Currently, USC consolidates about 80% of the domestic shipbuilding complex. The Russian market is the main focus of the state corporation though it also exports its products to 20 countries worldwide.
Source: PortNews