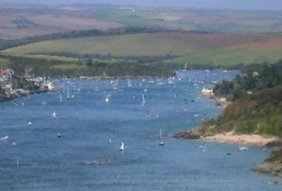 Posted on January 14, 2016
KINGSBRIDGE estuary could have dredging works taking place as soon as January 21 after a tendering process.
Harbour Master Adam Parnell confirmed that Van Oord, a Dutch dredging company, were awarded the contract to undertake maintenance dredging of parts of the Kingsbridge and Salcombe Estuary, following a 'competitive' tendering process.
Van Oord say they could start the dredging campaign as soon as Thursday, January 21, when their newest dredging vessel BORR completes its current tasking elsewhere and the start date for the dredging work is weather dependant.
The dredging to take place is expected to be 'Water Injection Dredging', pumping water into the sediment on the estuary floor, lifting it and allowing tides and other natural forces to disperse it over a wider area.
Adam Parnell said on the Salcombe Harbour Board website that: 'Comprehensive computer modelling – the accuracy of which was proven during the last dredge which took place in 2011 – estimates that at worst case, the estuary floor in non-dredged areas will rise by less than 3-10 cm.
'This means that navigation in the non-dredged areas won't be adversely affected, whereas safety of navigation in the main dredged areas will be significantly improved.'
The areas to be dredged include the Kingsbridge basin, an area around Lincombe Boatyard and several areas in and around Salcombe, including the slipway and pontoons in Batson Creek, the Fish Quay and the channel from there to Salcombe and the Normandy, Whitestrand and RNLI lifeboat pontoons.
Over 10,000 cubic metres of silt, equivalent to approximately four Olympic-sized swimming pools, will be shifted over a number of outgoing tides. The dredging should take between one to two weeks to complete – weather permitting.
The Harbour Master continued to say that the dredging campaign 'has been carefully planned and timed to cause minimum disruption to both harbour users and the environment'.
Vessels and the pontoons will need to be moved off their pilings in Kingsbridge in order to undertake this work. This may limit individual's access to their boats during the two or three days that dredging occurs in Kingsbridge, but Harbour Staff will 'make sure everything is put back as it was'.