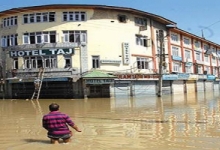 Posted on July 24, 2015
With Jhelum's belly filled by silt up to its brim, a day's downpour sends the alarm bells ringing in valley. So far the government has been clueless on how to intervene to prevent September like situation. Saima Bhat tries to answer what has gone wrong with Jhelum
Apparently there was calm in the police control room Srinagar, where operators were reassuring people on telephone lines that floods won't come again and they should not panic, but like everybody else they too were not sure about the mood of roaring Jhelum. The memories of September 2014 are still fresh in the collect memory of Kashmir.
"Officially we haven't declared floods for Srinagar city but I am driving straightway to my home in Natipora. Honestly speaking I am going to move things to first floor. I don't want to take risk," said an official of flood and irrigation department at 5 PM on June 25.
Fear was genuine. In June, flood threat was announced officially for the third time in 2015 as water crossed danger levels at both Sangam and Ram Munshi Bagh. But this time the situation was created by just a daylong of rainfall recorded throughout the valley. In Srinagar it was recorded at 49 mm, but in South Kashmir it was recorded 117mm in 24 hours.
Sonum Lotus, director Indian Metrological Department, stationed at Srinagar says, "It was just rainfall and not a cloudburst. For any precipitation to qualify as cloudburst it should rain 100 mm per hour."
As per the official data of last three decades of Metrological department Srinagar, in year 1996, around 142 mm of rainfall was recorded in the month of June, which was the highest so far with 48 mm in 24 hours.
But Javed Jaffar, chief engineer, flood and irrigation department Kashmir says, "It was crisis like situation as we received 117mm of rainfall in Kulgam and Islamabadin just 12 hours of time. Besides that the water level in Jhelum remains increased during summers due to melting of snow, which added to the chaos."
Experts suggest the flood threat will continue to loom over Kashmir till dredging and de-silting of Jhelum, Flood Spill Channel (FSC) and other major tributaries is not done to increase their carrying capacity. The carrying capacity of the Jhelum has reduced considerably due to the September deluge last year due to the accumulated silt. "Before September the carrying capacity of this river was 40,000 cusecs and post September floods if dredging would have been done, the capacity would have been increased to at least 60,000 cusecs," says an executive level engineer, wishing anonymity.
He further adds, "The carrying capacity of Jhelum would increase by 20,000 after dredging and imagine how much capacity we can add to the overall system if we go for dredging of all its adjoining wet lands. If we talk of September 2014 floods, then we should at least have a capacity of 1.15 lakh cusecs."
Ten months have already passed since the massive flood hit state but Irrigation and Flood Control (I&FC) department has yet to start the tendering for dredging and de-silting, when the same process earn huge profits to the state exchequer.
Jaffar says, "We are done with temporary restoration but so far only 40 percent of the permanent restoration (physically) has been done. Irrigation was priority." During September floods, around 70 breaches had taken places on Jhelum and around 500 to 800 meters of embankments were sloughed off.
"We were waiting for central government to release the funds. The state had submitted a plan in December and we were expecting central government to release money by March but it is already July and we are yet to receive the money," He added.
Meanwhile Sukhnandan Kumar the minister for I&FC says the department had started dredging but it was limited to a few spots only as they didn't had the required funds. "I have heard Union government is going to release funds soon. So accordingly we will be starting the massive dredging of water bodies. We will be issuing tenders in a few days and I hope the dredging should start on a war footing," the minister said.
Kashmir was hit by devastating floods last year and the deluge overwhelmed nearly 70 per cent of Srinagar city. Besides that around 800 villages in the state remained inundated for more than two weeks which left nearly 300 people dead throughout the state. The major source of the deluge was river Jhelum which spans over 725 kms, most of which is in immediate need of dredging.
Its tributaries Lidder, Vishaw, Bringi and Rambiara in south, Ferozpour, Sukhnag and Sindh in central Kashmir, Pohru, Ningli, Khursu, Erin and Madhumati in north also need immediate de-siltation to mitigate the looming flood threat.
Shakeel Ramshoo, head of the Earth Sciences department at Kashmir Universitymaintains that Jhelum may flood anytime in near future, "The current flood situation is because ground water table is already high. September floods have left huge slit in Jhelum and other water bodies which has almost chocked the drainage system. Besides that the new highway and railway track have added to the chaos."
He further adds, "I must tell you our government doesn't have a proper plan. They learnt nothing from 2014 floods. Every time there is a rainfall of few hours, we will have crisis. Ask them where their disaster management plan is. They just shrug off from their responsibilities after giving flood alerts."
At least this government can install a Flood Early Warning System (FEWS) and it is not going to cost them more than Rs 6 crores, retorted Ramshoo.
Experts believe that dredging of the river bed between Sopore and Baramulla is very important to increase water velocity. Jhelum bypasses Dal Lake but lands inWullar. Removing silt at the Wullar's mouth between Sopore and Baramulla was considered the key intervention that will drain out floods faster.
Jitendra Singh, executive engineer I&FC department at Baramulla says, "We have two dredgers which are working continuously in Baramulla. So far we have taken out 4.25 lakh cubic meters of silt." When asked about the dredging done on the mouth bed of Wullar, he said he will collect the details. The official didn't respond later.
Interestingly while all the canals are being repaired and dredged every year inJammu, the process remains halted in Kashmir. Owing to this crisis, a number of tributaries of Jhelum have changed course at many places because of the underlying shoals.
Chief Engineer Jaffar says it was only in May 2015 that these shoals became visible and his department had started working on them. "But now it is not possible because river works are done in lean water flow only."
Massive soil erosion has made Jhelum shallower further shrinking its retaining capacity. Wullar also becomes shallower by six inches every year. Besides wetlands and marshy areas exhibit a much serious crisis, from 13425.86 hectors in 1911 and they have been reduced to 6407.14 hectors in 2004. It means more than 52 per cent of the wetlands and the marshes have been destroyed in last 93 years and most of them now help in backflow of flood water.
Besides Jhelum, another big threat was Doodhganga tributary which inundated the civil lines areas during September 2014 floods. Its embankments were not breached but it was found overflowing at three spots.
As per GM Ganai executive engineer, Narbal division, "I am happy this time that Doodganga didn't behave differently this time. We are done with its dredging which earned us a profit of Rs 17 lakhs but now we are focusing on the Flood Spill Channel (FSC) from Mehjoor Nagar to Bemina which is 6.5 kms. By its dredging we will increase its capacity from 7000 to 25000 cusecs."
Post floods, the department asked the contractors to work on war footing but unfortunately these contractors are not getting their bills paid.
When created, this FSC was 41.70 kms long and it could accommodate 17500 cusecs of discharge from river upstream bypassing Srinagar.
The dredging of FSC takes place only when cunnetee (small nallah in FSC) gets visible. "Post September it has just started becoming visible and now the flood-like situation has submerged it again. Now we will have to wait," says Ganai.
Ganai also says that due to the shrinkage of wet lands across the Doodganga and FSC, sometimes water backflows, like it happened in September. Presently they have planned to raise at least two embankments in Shariefabad Budgam, where I&FC department has identified 1600 kanals of land, for which locals will be paid compensation of around Rs 80 crores. Later two bridges will be built, one in Shariefabad as the locals have constructed a road in the middle of FSC and another one in Naidkhai.
"This identified land once belonged to state government but due to their negligence and the blessing of revenue department the property rights were transferred to locals and now government has to pay for its own land," says Abdul Majeed, a local in Shariefabad.
After September 2014 floods, I&FC department conducted a number of demolition drives but as soon as the weather improved they forget these drives even after the department was directed twice by J&K High Court for removal of encroachments and obstructions.
I&FC department submitted a proposal for a new FSC at Dongripora in year 2009 for creating storage within the available channels by enhancing their carrying capacity to 60,000 cusecs. If approved, the proposal will take 10 more years to concretize. But the big question is can we afford to wait that long!