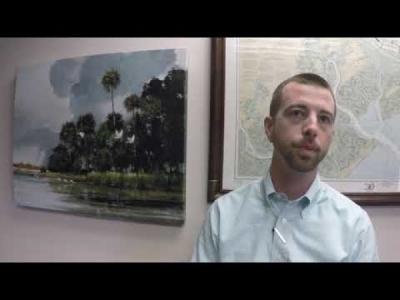 Posted on June 24, 2019
Jekyll Creek Thin Layer Placement / Beneficial Use of Dredged Material Pilot Project
The U.S. Army Corps of Engineers, Savannah District, with expertise and resources from Cottrell Contracting of Chesapeake, Va., recently completed the first portion of a dredging pilot project in the Jekyll Creek / St. Simons Sound area. The pilot project seeks to find environmentally viable, cost-effective and beneficial uses for "pluff mud," a silty, watery type of dredge material that is difficult to work with and expensive to dispose of.
The dredging project deepened a channel near Jekyll Creek to 10 feet, placing 5,000 cubic yards into a nearby marsh and the other 220,000 cubic yards into a naturally scouring "deep hole" in St. Simons Sound. The deep hole is approximately 60-70 feet deep compared to the surrounding depths which average 30-40 feet.
For the marsh portion, coconut coir logs were used to retain the dredged material in a 5-acre plot and allow marsh grasses to adapt to the new level, which was anywhere from two inches to a foot higher in elevation. Scientists and researchers with Georgia Southern University and the University of South Carolina will monitor the marsh and associated wildlife to establish the health of the marsh and the associated ecosystem.
Additionally, researchers with LG2 Environmental, along with USACE Savannah District survey team experts will place tracers in the dredge piping as the material is placed in the deep hole. Those tracers will be used to study how the material is naturally dispersed in the area and determine if the disposal method is viable for future projects.
If successful, the dredging technique, which as proven successful in Maryland, New Jersey and Louisiana, could be used throughout Georgia's Atlantic Intracoastal Waterway as an environmentally sound, cost-effective use for dredging material that also bolster's the state's coast against the negative effects of sea level rise and climate change.
Other partners in the project include USACE Jacksonville District, The Nature Conservancy and the Georgia Department of Natural Resources.
Video by Jeremy S. Buddemeier, U.S. Army Corps of Engineers, Savannah District.
Source: youtube.com