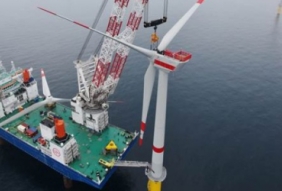 Posted on September 22, 2015
Jan De Nul has completed the acquisition of the heavylift jack-up vessel Vidar from German construction company Hochtief.
The deal, first reported by subscriber-only newsletter reNEWS in July, has officially gone through, the Belgian group confirmed this morning.
Vidar was commissioned in 2013 and is designed to install offshore wind farms, boasting a crane that can lift up to 1200 tonnes when installing foundations and other components in water depths of up to 50 metres.
Jan De Nul Group manager offshore renewable Peter De Pooter said: "With the Vidar in our fleet we considerably extend our specialized services for the installation of offshore windparks."