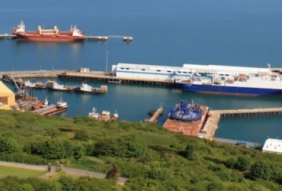 Posted on August 28, 2015
Portland Harbour in Dorset has joined forces with contractor Jan De Nul in a bid to win work for the up to 970MW Navitus Bay offshore wind farm near the Isle of Wight.
The partners will under a memorandum of understanding, and if selected, construct gravity base foundations for Eneco and EDF's Round 3 project off the south coast of England.
JDN is one of two shortlisted bidders for the work. Portland would require an upgrade to accommodate the contract.
Portland Port chief Bill Reeves said the deal "outlines our ambitious blueprint for growth and jobs".
"Navitus Bay is a hugely exciting project that could deliver massive benefits to Portland Harbour and the local community. Jan De Nul is a world-class construction company and they share our desire to create a wide range of career opportunities and also leave a lasting legacy," he added.
Jan De Nul head of international projects Stuart Betts-Williams added: "Portland Harbour . . . would become a key centre for us should we secure the foundation contract from Navitus Bay. We have rich experience of similar projects and look forward to implementing our considerable expertise on the south coast."