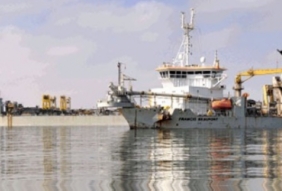 Posted on December 3, 2015
Jan De Nul Group secured its continuous presence in Panama for another two years through the award of the quay wall and dredging contract for the expansion of Panama PSA's terminal, the Group's press center says. After six months of design and tendering process, the contract has been awarded to Jan De Nul Group and Saipem. With this contract, a major step forward has been taken to transform PSA's terminal in Panama into a 2 million TEU facility.
Today, the PSA terminal, located on the western bank of the Panama Canal's Pacific entrance, has a 450,000 TEU capacity and opened for business in 2010. It currently offers 330-meter of berthing served by three quay cranes and nine yard cranes.
This new expansion was approved by Panama's National Assembly earlier this year and is scheduled to be operational in the first half of 2017. It comprises the dredging and excavation of approximately 4 million m³ of material to a depth of 16.3 m, as well as the construction of an 800-meter quay wall. The dredging works will be executed by Jan De Nul Group. The quay wall extension is awarded to the Joint Venture Jan De Nul-Saipem. When fully operational, PSA Panama will be able to handle two mega ships simultaneously.
"Jan De Nul and Saipem have completed several major construction projects in Latin America, making this combined expertise a great added value to build a more robust terminal infrastructure in Panama", said Alessandro Cassinelli, PSA Panama General Manager.
New container handling equipment will include eight new quay cranes for super-post-Panamax vessels as well as 12 rail mounted gantries. The contract will generate an estimated 1,000 jobs during the two years of construction, and at least 400 additional long term jobs for operation of the expanded terminal.