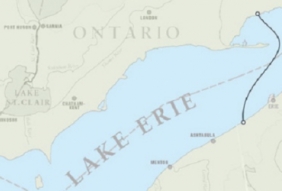 Posted on February 4, 2016
ITC Lake Erie Connector LLC, a wholly-owned subsidiary of ITC Holdings Corp., the largest independent electricity transmission company in the United States, today announced it has filed a joint permit application with the Pennsylvania Department of Environmental Protection and the U.S. Army Corps of Engineers in support of the ITC Lake Erie Connector merchant transmission line.
The ITC Lake Erie Connector is a proposed 1000 MW, bi-directional, High-Voltage Direct Current (HVDC) submarine merchant transmission line that will provide the first direct link between the markets of the Ontario Independent Electricity System Operator (IESO) and PJM Interconnection, LLC (PJM). The ITC Lake Erie Connector will enable transmission customers to more efficiently access energy, capacity and renewable energy credit opportunities in both markets.
"We are pleased with the expressions of interest we received in the non-binding open solicitation process that concluded in August, and we are now in bilateral negotiations for line capacity with prospective counterparties," said Terry Harvill, Ph.D., vice president of International and Merchant Development, ITC Holdings Corp. "The Lake Erie Connector will support the security, reliability and capacity of the PJM and Ontario energy grids through this more direct, efficient and controllable path for energy flow between the systems."
ITC also has submitted major applications to the U.S. Department of Energy (filed May 29, 2015) and Canada's National Energy Board (filed May 22, 2015). The company has completed detailed engineering work and marine and land studies in support of the project and has held or participated in public meetings in Erie County, Pennsylvania and consultation events in Nanticoke, Ontario to discuss the project and gather community input.
Project Specifications
The ITC Lake Erie Connector is +/- 320 kV HVDC bi-directional transmission line, approximately 73 miles in length, that will interconnect with converter stations located in Erie, Pennsylvania and Nanticoke, Ontario. A 345 kV Alternating Current (AC) underground transmission line will connect the Erie converter station to the existing Penelec Erie West Substation, while a 500 kV AC line will interconnect the Nanticoke converter station to Hydro One Networks Inc.'s Nanticoke Transformer Station. The majority of the transmission line either will be buried beneath Lake Erie or underground using existing roadway rights-of-way.
Assuming ITC is successful in executing favorable Transmission Service Agreements over the course of the next several months, the company would then anticipate receiving federal, state and provincial permits by the second quarter of 2017. ITC would commence construction around that time, with commercial operation expected in 2019.
Additional information regarding the project is available at www.itclakeerieconnector.com.
About ITC Holdings Corp.
ITC Holdings Corp. (NYSE: ITC) is the nation's largest independent electric transmission company. Based in Novi, Michigan, ITC invests in the electric transmission grid to improve reliability, expand access to markets, allow new generating resources to interconnect to its transmission systems and lower the overall cost of delivered energy. Through its regulated operating subsidiaries ITCTransmission, Michigan Electric Transmission Company, ITC Midwest and ITC Great Plains, ITC owns and operates high-voltage transmission facilities in Michigan, Iowa, Minnesota, Illinois, Missouri, Kansas and Oklahoma, serving a combined peak load exceeding 26,000 megawatts along approximately 15,600 circuit miles of transmission line. ITC's grid development focus includes growth through regulated infrastructure investment as well as domestic and international expansion through merchant and other commercial development opportunities. For more information, please visit ITC's website at www.itc-holdings.com