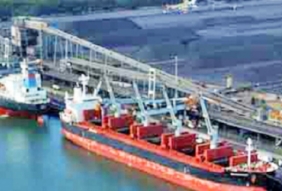 Posted on December 9, 2015
By Santosh Patnaik, The Hindu
Export and import traders are in jubilation with the Visakhapatnam Port finally set to allow fully-laden Panamax vessels with a draft of 14.5 metres without lightening into the inner harbour by month-end.
"Though it involved a difficult task of dredging soft and rock strata, we are on verge of completing the inner harbour dredging work by month-end. We have already allowed berthing of two large size ships without lightening. Now ships with 14.5 metres draft can enter the inner harbour after completion of dredging at the turning circle by month-end," Visakhapatnam Port Trust Chairman M.T. Krishna Babu has told The Hindu .
Dredging in inner harbour, due to variety of reasons, was delayed for nearly a decade. However, the port was successful in completing outer harbour dredging to handle capesize vessels by engaging International Dredging Seaport Ltd in November, 2013. Inner harbour dredging forced the port to resort to window service – allowing navigation of ships from the channel to the inner harbour on alternate days to allow dredging work without interruptions.
READ FULL ARTICLE HERE