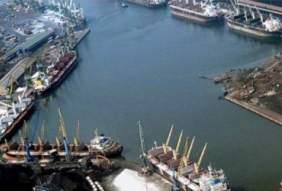 Posted on September 2, 2015
By Santhosh Patnaik, The Hindu
Loss of cargo by Visakhapatnam Port due to window period provided for navigation vessels on alternate days since mid-2013 will come to an end with efforts underway to complete dredging in the inner harbour to increase draft to 14 metres by September 30.
To enable dredging without interruptions, navigation of vessels into inner harbour and dredging are allowed on alternate days. Presently, vessels with 13 metres draft are being handled after lightening at the outer harbour.
"We will be ready to receive fully laden Panamax vessels with 14 metres draft by month-end," Port Chairman M.T. Krishna Babu told The Hindu.
International Dredging Seaport Ltd completed dredging in the outer harbour to handle Cape size vessels in November, 2013, at a cost of Rs.130 crore.
READ FULL ARTICLE HERE