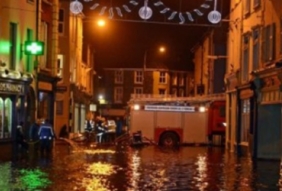 Posted on January 19, 2016
By Kieran O'Mahony, The Southern Star
A MEMBER of Bandon Flood Group has said the people of Bandon are getting nothing but a 'bucketful of excuses' from both Inland Fisheries Ireland (IFI) and Cork County Council, over dredging of the Bandon River.
And at a meeting of Cork County Council on Monday, one angry councillor told the IFI to 'back off' after hearing that dredging would not be allowed in a number of flood-threatened towns.
'We're calling for immediate dredging and we're not interested in the reasons why they can't, we just want the job done,' said a furious Gillian Powell of Bandon Flood Group.
READ FULL ARTICLE HERE