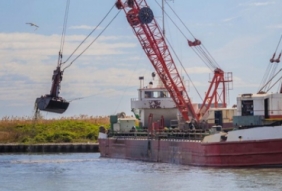 Posted on November 5, 2015
Inix Technologies Holdings Bhd is optimistic over outlook, given its diversification initiative into the promising dredging and land reclamation services industry.
It is doing this via a 30 per cent stake in Galactic Maritime (M) Sdn Bhd.
Executive Director Chow Hung Keey said Inix has also proposed a two-for-one rights issue and detachable warrants to raise a total proceed of RM27.8 million to fund the new business venture and expansion.
"Of the total raised, RM7.2 million will be used for purchase consideration for the 30 per cent equity interest in Galactic, RM5.5 million for purchase of a new vessel to generate alternative sources of income, RM8 million for existing business expansion and RM6.3 million for working capital and rest for working estimated expenses for the deal," he told Bernama.
Meanwhile, Affin Hwang Capital Research said in a note, aside from diversifying Inix's income stream and capitalising on Galactic's future growth, the group remains focused on its core operations.
"We expect Inix to turnaround its business in financial year 2016/2017, riding on the moderate growth in the information and communication (ICT) industry and additional earnings contribution from Galactic. The group has a solid balance sheet, sitting on a net cash pile of RM300,000."
Chow said Inix is acquiring Galactic as its turnover and profit has been volatile over the years due to the nature of the Information Technology (IT) industry.
"The group's plan to diversify into the dredging and land reclamation services business through the acquisition of Galactic, will reduce dependency on the existing IT business and provide an alternative income stream for Inix," he added.
However, he said as Inix had no prior experience in dredging and land reclamation, the proposed acquisition of Galactic is a good move, given the latter's own expertise in the construction space.
"Moreover, the purchase of a 30 per cent stake in Galactic comes with a total profit guarantee of RM2.1 million over 28 months, representing an average profit of RM900,000 per annum.
"Our company sees the potential in Galactic Maritime with prospects for the dredging and land reclamation services industry in Malaysia remaining bright.
"With several large development projects in the pipeline, we expect this could generate demand for dredging and land reclamation services for at least the next five to 10 years," Chow said.
He said in Malaysia, there are a lot of developments involving reclamation works, particularly in Penang, Melaka and Johor.
"This gives us an opportunity to venture into the business. Galactic Maritime is in negotiations with several parties from Melaka and Johor. Currently, the company is handling two projects in Melaka with a total net book value of RM10 million," he added.
Galactic Maritime (M) Sdn Bhd was first incorporated in March 2010 under the name, Landmark Vintage Sdn Bhd, and eventually assumed its current name in March 2013.
The group is mainly involved in the provision of reclamation dredging and environmental protection dredging services for land reclamation in urban development projects.
Meanwhile, Affin Research said Galactic's maiden land reclamation project was for Benalec Maritime Sdn Bhd, for RM15.8 million in Klebang, Melaka, back in 2011.
"Subsequently the group has continued to land several smaller-scale land reclamation projects, mainly in Melaka and Negeri Sembilan each year, and currently has two in hand," the research house added.