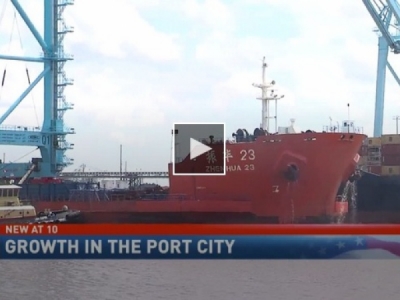 Posted on March 14, 2019
(IMG: WPMI)
MOBILE, Ala. (WPMI) — The Port of Mobile has more than an $8 billion impact annually, which is certainly not chump change.
But the modern era requires the channel to be widened and deepened for bigger ships. According to Port Executive Director Jimmy Lyons, that means five feet deeper than its current status of 45 feet.
The widening will also allow ships to fully turn around.
Lyons said the expansion could make Mobile one of the top ten ports in tonnage in the country.
The bill signed today permits about $12 million a year to go to the port for the ongoing project.
The entire dredging to deepen the channel will cost south of $400 million total, they also have other federal and state aid to do it.
Out of all local elected representatives, only one voted against Governor Kay Ivey's infrastructure bill… Senator Vivian Figures.
Figures said she supports the port wholeheartedly, but took issue with the gas tax paying for it.
"Poor people keep trying to get ahead and they can't because we keep knocking them down," she said. Figures suggested there were other funding mechanisms that could have paid for infrastructure without a gas tax being implemented.
HOW THEY VOTED:
Greg Albritton – Y
Baldwin, Clarke, Escambia, Monroe, Washington
Chris Elliot – Y
Baldwin County
Vivian Figures – N
Mobile County
David Sessions – Y
Mobile County
Jack W. Williams – Y
Mobile County
Malika Sanders-Fortier – Y
Monroe, Conecuh
Source: mynbc15.com