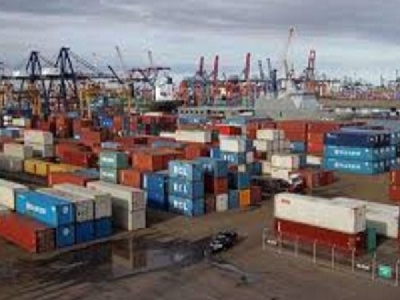 Posted on September 15, 2016
Indonesian President Joko Widodo inaugurated an expansion of the country's main seaport in Jakarta on Tuesday, a facility upgrade that will cut the time container ships must spend waiting to load or unload.
"We cannot delay the development of modern ports any longer. This supports trade flows and investment in this country," President Widodo said at the opening of New Priok Container Terminal (NPCT) 1 in Kalibaru, the first of five phases of an expansion of Priok port that are to be completed in 2019.
Tanjung Priok port in North Jakarta, which handles the bulk of international shipments into Southeast Asia's biggest economy, has been plagued with bottlenecks and long handling times due to years of under investment.
Logistics costs in Indonesia are up to 2.5 times higher than in neighboring countries, Widodo said.
"If we're slow we'll be left behind," he said.
Widodo has taken a special interest in reducing port dwell times, part of his government's broad efforts to improve the nation's infrastructure to drive economic growth.
Dwell time at Priok is now between 3.2 and 3.7 days, down from up to a week in 2014, Widodo said, adding that he has asked for the wait to be reduced to less than three days.
Bringing Priok in line with global standards will depend on how quickly it can move cargo away from the docks, and whether it can alleviate congestion problems that slow the movement of ships and cargo, increasing costs for exporters and importers, shipping experts said.
"The expansion of Tanjung Priok may encourage shipping lines to launch more direct ship calls to Jakarta, but I do not see it as a major threat to Singapore's transshipment status," said Jonathan Beard, head of transportation and logistics in Asia for design and consultancy firm Arcadis.
The new terminal adds 1.5 million TEUs to Priok's existing seven million TEU annual capacity, said Elvyn Masassya, CEO of Pelabuhan Indonesia (Pelindo) II, Indonesia's state-owned port company that operates NPCT 1 in a consortium that includes Singapore's PSA International and Tokyo-listed Mitsui.
With eight cranes that can move 30 containers per hour and berths that can dock ships with a draft of as much as 16 meters, the new terminal will allow Priok to accommodate vessels carrying 10,000 TEUs from Europe and East Asia for the first time, Masassya said.
According to senior maritime consultant Jakob Sorensen, this depth would be adequate to meet Priok's "current and near future requirements for container vessels."
Source: The Maritime Executive