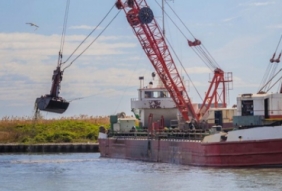 Posted on September 11, 2015
By Titus Zheng, IHS Maritime 360
Indonesia, the Netherlands, and South Korea have signed a letter of intent (LOI) for a feasibility study on the Jakarta flood protection project, the National Capital Integrated Coastal Development (NCICD) known as the 'Giant Sea Wall'.
The LOI was signed by Korea International Cooperation Agency representative Choi Sung Ho, deputy mission head of the Dutch embassy in Indonesia Ferdinand Lahnstein, and Indonesian deputy minister of infrastructure Lucky Eko Wuryanto on 3 September.
The new study was commissioned upon the Indonesian government's request to explore options for the joint realisation of the mega project, which is estimated to worth USD40 billion.
READ FULL ARTICLE HERE