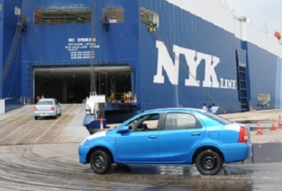 Posted on March 2, 2016
Kamarajar Port Limited, which runs the port at Ennore in the state of Tamil Nadu on India's eastern coast, is investing close to $1.2 billion in five projects that will add its first container terminal and nearly double capacity over the coming three years.
The five projects are the 1.4 million twenty-foot-equivalent unit capacity container terminal, two new coal berths, a 2 million tonne (2.4 million tons) multi-purpose cargo berth, a 5 million tonne liquefied natural gas terminal and capital dredging that will allow calls by capesize vessels. In addition, tenders will be floated for another general cargo berth and a multi-liquid terminal, said KPL Chairman and Managing Director M.A Bhaskarachar.
The projects will enable the port to keep pace with neighboring rivals including the ports of Kattupalli, Karaikal, Tuticorin, Chennai and Krishnapatnam and will expand capacity to 80 million tonnes within three years, Bhaskarachar said.
Kamarajar is the only one of 12 Indian government-owned ports run as a company as opposed to a trust. In fiscal 2015, the port handled 30.25 million tonnes of cargo, up 10.7 percent on the previous year. Kamarajar is currently operating at around 75 percent of capacity and ships have to wait to get a berth.
According to Bhaskarachar, the extra freedom the port enjoys from government control, including the ability to set rates based on market forces, is a key advantage.
"Our rates are competitive and trade is not complaining," he told JOC.com. "All our rates are fixed in a transparent manner. There is nothing extra that customers have to pay."
Adani Ports and Special Economic Zone Ltd is constructing the container terminal, which is expected to be operational by the middle of this year and have an initial capacity of 800,000 TEUs.
Coal is Kamarajar's main cargo. Out of the 30.25 million tonnes of cargo the port handled in fiscal 2014-15, 24 million tonnes or 80 percent was thermal coal.
It has built two coal berths with a combined capacity of 12 million tonnes a year run by state-owned power utility Tamil Nadu Generation and Distribution Corporation Ltd. The latter is the port's biggest customer and accounts for about 45 percent of annual revenues. To meet TANGEDCO's rising coal requirements, the port is constructing a new 9 million tonne capacity coal berth with its own funds for dedicated use by TANGEDCO.
With nearby Chennai home to the four major car manufacturers of Ford, Nissan, BMW and Hyundai, as well as truck makers Daimler and Ashok Leyland, Kamarajar is a gateway for shipping automobiles. Toyota vehicles manufactured in Bangalore are also exported via Kamarajar.
As India's Ministry of Shipping takes steps to shift auto shipments meant for local use from road to sea, Kamarajar cut its wharfage rates by half in October for automobiles being transported from the port to other Indian ports. The discount is being offered on a trial basis until March 31.
Investment in India's port infrastructure will reach $2.1 billion in fiscal 2015-16 and add 162 million tonnes per year of new capacity to the country's 12 largest ports, according to the Ministry of Shipping.
"The focus is on improving the existing port infrastructure, modernization of the existing facilities and increasing port capacity," the ministry said in a statement, adding that the overriding goal of the projects is to bring port infrastructure and facilities in the country up to international standards.
Cargo traffic at the 12 main ports increased by 3.1 percent in the first three quarters of fiscal 2015-16. The ports handled a combined total of 447.05 million tonnes of cargo from April to December 2015, up from 433.5 million tonnes in the same period the previous year.